Where am I?
We generate activations sets for Bimmer Navigation systems (NBT, NBT EVO, CarPlay) retrofit and offer solutions for BMW chip-tuning and feature unlocks.
Stay tuned!
---
New portal for all BMW workshop services and owners
Do you often work with BMW, MINI or Rolls-Royce?
Portal can help you with your daily tasks:
Vehicle options check (including retrofitted options);
Map updates FSC for Headunits: CIC / CIC MID / CHAMP / NBT / NBT EVO / ENTRYNAV;
Retrofit FSC set for NBT / NBTevo;
Video in Motion for NBT EVO / MGU;
Region change for NBT EVO;
VO order for E-Sys FA / SSD file for NCS Expert;
NBTevo coding unlock.
Public registration has now been opened!
The invitation code for our customers:
inviteToFSCmapDOTcom
---
FemtoEVO — the newest activating solution for NBT EVO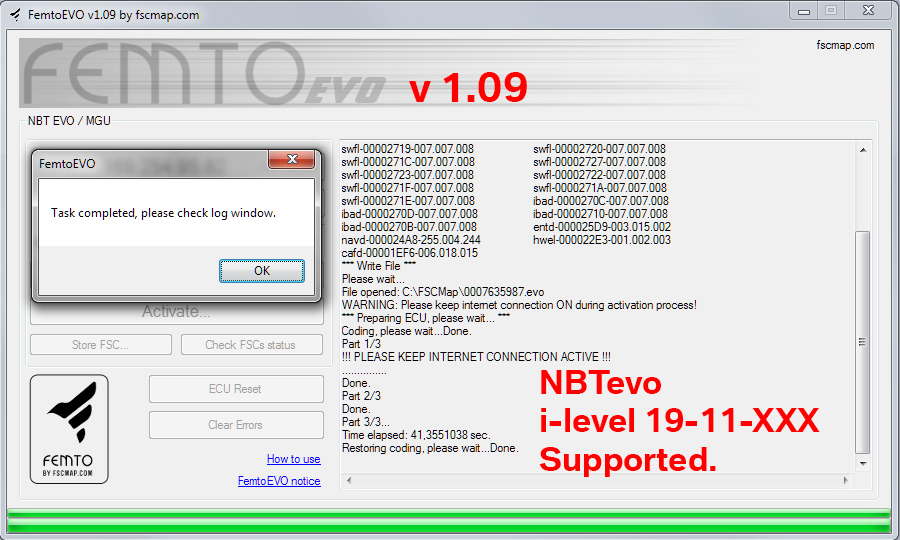 Activate CarPlay Full screen in just a few minutes. Works with new version of software 20-03-XXX,19-11-XXX,18-11-XXX and earlier. Since version 1.09 internet connection needed.  
Supported:
Harman/Becker ECE, US headunits;
Alpine headunits (Asia market);
All types of hardware, includung HW4.1.

Order FemtoEVO Activation container.
From: $ 30More info
---
News
---
Our clients